Nexus Dock is a customization tool, allowing you to launch applications and open other elements on Windows. Through this article, you will be able to download, install and customize Nexus Dock on Windows, through some basic customization options.
Nexus offers a very interesting way to interact with Windows and its elements. With, you can for example make it easy to access a folder, any program through its shortcut, etc. All you have to do is play with the icons to open one item or another.
Download Winstep Nexus Dock for Windows 10, 8 and Windows 7
Fully customizable, Winstep Nexus Dock is free. It also allows you to pass internal Windows commands such as restarting it, shutting it down, launching the start menu, etc. You can download and use it regardless of your operating system version.
Nexus Dock integrates easily into the operating system and does not consume computer resources. Which is good news for those who want to customize their operating systems without compromising performance.
Read also: Install Rainmeter themes on Windows.
Customize Nexus Dock on Windows
Download and install Nexus Dock on your computer. Its icon will be visible on the Windows desktop. Open it to launch Nexus Dock. By launching it, it comes in its default look, which you will see how to customize.

As you can see, Nexus launches certain shortcuts including the Windows task manager, the recycle bin, the start menu or the Windows screenshot tool. Continue to learn how to customize Nexus Dock on Windows 10, 8, and Windows 7.
Read also: Take a Windows screenshot without software.
Add a new item, remove an item from Nexus Dock
The first steps to learn to customize Nexus Dock on Windows are removing and adding a new item. To remove an item from the dock, click on it with the right mouse button, then on " Remove from the bar And confirm. The item in question will be directly removed from the dock.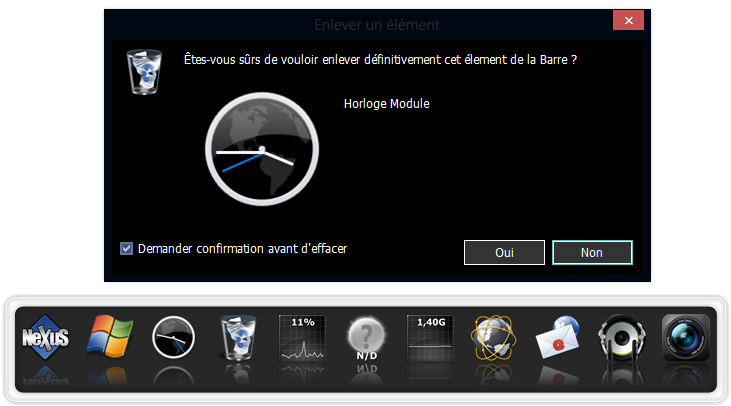 Adding a new element to the dock is very simple and can be done in two ways: by dragging and dropping, it concerns all types of elements, as in the screenshot below:

On the capture you have in front of you, I dragged and dropped the Chrome browser icon, present on my computer desktop. Adding a new element can also be done through the element properties. That is, by right clicking on the dock and choosing " Insert new element in the bar ».
So right click on an element of your choice and " Insert new element in the bar "Then" Object ". Once in the properties of the new item, you can configure the launch of a program, the opening of a folder, the execution of an internal Windows command, etc.
Read also: Encrypt, lock a folder with password on Windows.
Add a folder or a program with Nexus Dock
You can add a folder by adding the new item, but the easiest way would be to drag and drop. Go to the location of your folder. To customize Nexus Dock on Windows, take the folder and drag it to the dock. You can select more than one and do it at the same time.
For a program too, drag and drop if the shortcut of the program in question is on the desktop. Otherwise, to keep it simple, go to the local C drive to find the program in question.
Once in the local drive C, open the folder " Programs Files And find the folder with the name of the program you want to add.
Find the folder and open it. Then locate the executable file, allowing you to launch the program. This file usually only has the name of the program. So as not to confuse it with other elements such as the uninstallation file (Uninstal), etc.
Once you have found the executable file for launching the program, drag it and drop it back to the dock. As in the capture below: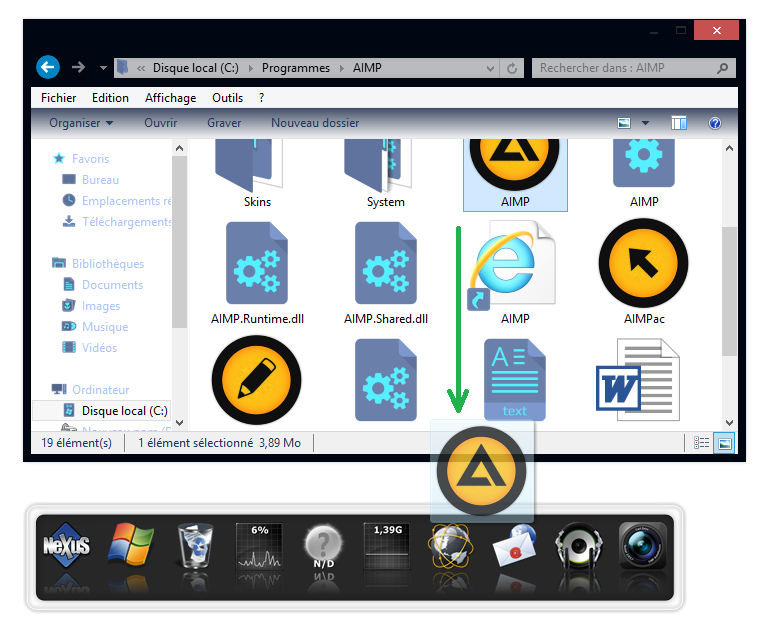 There is another way to add a program to the Nexus dock, but it might just confuse you. So use these two, since they're pretty straightforward. Drag and drop is that easy. Who could not do it!
Add a Windows internal command to Nexus Dock
You can also customize Nexus Dock on Windows by adding shortcuts related to Windows commands. For example, you can create one for shutting down Windows or putting it to sleep, locking the computer, launching the control panel, etc.
To do this, go to the dock and right click there. Anywhere. Select " Insert a new element in the bar », The menu will display other items. Select " Internal control », Then you will have a wide range of choices: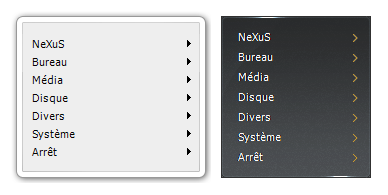 You can add Nexus commands for dock management, Windows desktop management, media management (volume control, etc.), operating system management, etc.
To better customize Nexus Dock on Windows, have fun adding things that suit you. Add items to test and see which ones would be most useful to you. You can then delete them. You can add multiple categories of objects, like URL links and more.
Change Nexus Dock display settings on Windows
By accessing these settings, you will be able to change the behavior of Nexus, its appearance (theme, effects), its position on the Windows desktop, etc.
To continue customizing Nexus Dock on Windows, click on it (anywhere) with the right mouse button. Then choose " Preferences ».

You can also do this by clicking on an item, and choosing " Nexus "Then" Preferences ". You will have a window with several tabs, which in turn has several customization options. In there you will find all the necessary settings of Nexus.
I wouldn't be able to present them all to you, but some of the options like managing Nexus themes or managing advanced settings. Open preferences and switch to the Nexus theme management tab.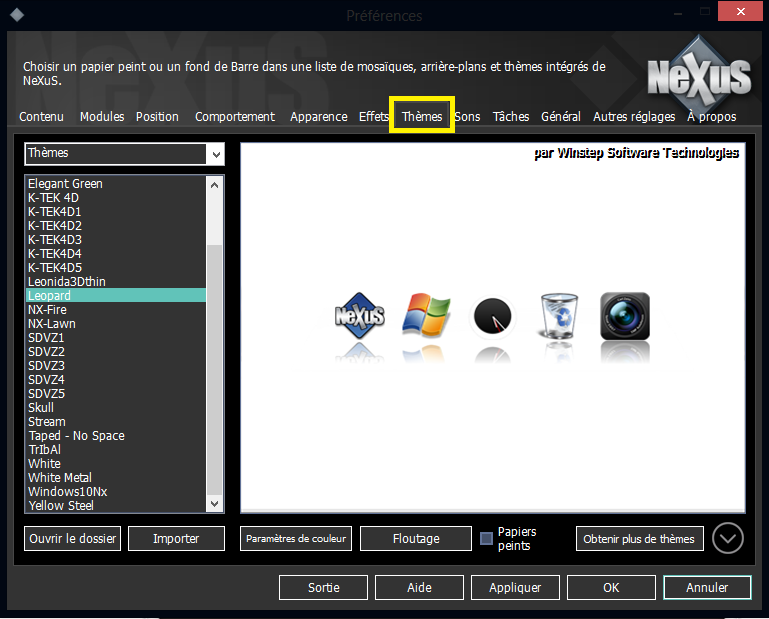 Select a theme of your choice and apply it. You may or may not change its appearance settings such as color. The list goes on, select and apply a theme of your choice to see what it will give you.

You will notice that a lot will change right away. Not only in the appearance of the dock but also in the presentation of the windows displaying the contextual menus of Nexus.
The other tab that I could not help but present to you, although not entirely, is the Nexus advanced settings. It offers the possibility of saving your configurations made in Nexus, to use them on another computer or to reuse them in the event of reinstallation of Nexus.
To do this, go to the Nexus preferences, then in the " Other settings ". To save your configurations, click on " Save ". Select the location of the backup and enter a name for it. You can then save the file.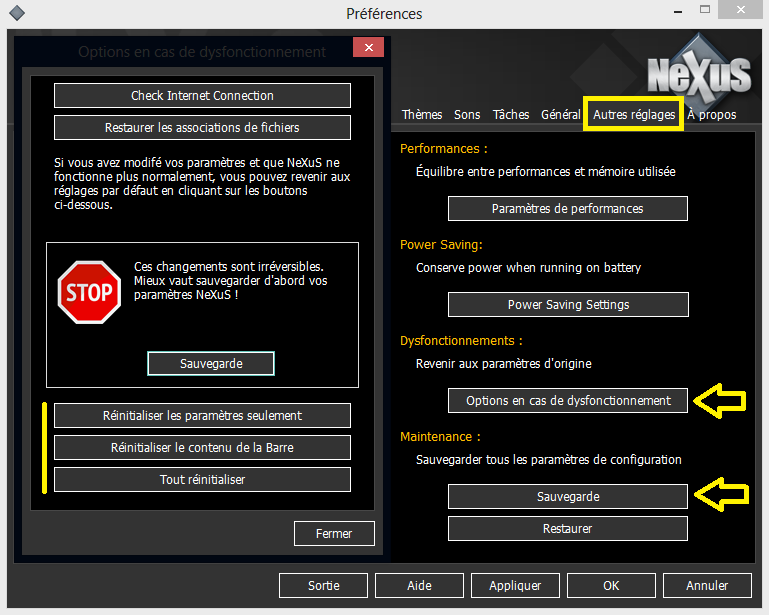 You can also reset Nexus, in case of malfunction or not. For that you will only have to click on " Options in case of malfunction And choose the desired reset option. Whether it is a full or partial reset, that is to say the content of the bar or the parameters alone.
Go to other options to customize Nexus Dock on Windows. Try several tweaks to see what will look better on your computer. Do not be afraid to compromise the configurations made, it is part of the learning. Or save them.