Stickers of all kinds circulate on theWhatsapp application, and you can create your own. There are several apps for creating stickers on WhatsApp and adding them to sticker gallery to send them anytime.
Download Sticker.ly
Sticker.ly is one of those apps to use to create stickers on WhatsApp. Free to download for Android and iOS, Sticker.ly only works with the official version of WhatsApp. This means that it will not be used to create stickers on GBWhatsApp or other modified version of WhatsApp.
Download Sticker.ly for Android | Sticker.ly for iOS.
With Sticker.ly, you can create your sticker gallery (stickers) using images from your photo gallery. These can be modified or shared without editing.
The application offers other features related to the creation of stickers such as their edition (size, design, text) or the addition of the author's name. You can also create animated stickers and share them or add them to your sticker gallery.
Read also: Send temporary messages with WhatsApp.
Applications to create stickers on WhatsApp
Besides Sticker.ly, there are many other apps for creating stickers on WhatsApp. Here is a small list (not exhaustive):
Create stickers on WhatsApp with Sticker.ly
Download, install and launch the app. Here is how to proceed:
The application launched, choose to connect with your account Facebook ou Google (Gmail). But you don't have to log in, press " Passer "Above the right of the smartphone screen.
Step 1 : Click the add icon to create a WhatsApp sticker (+ in blue color) and, in the part " Library », Choose one of the photos from your gallery.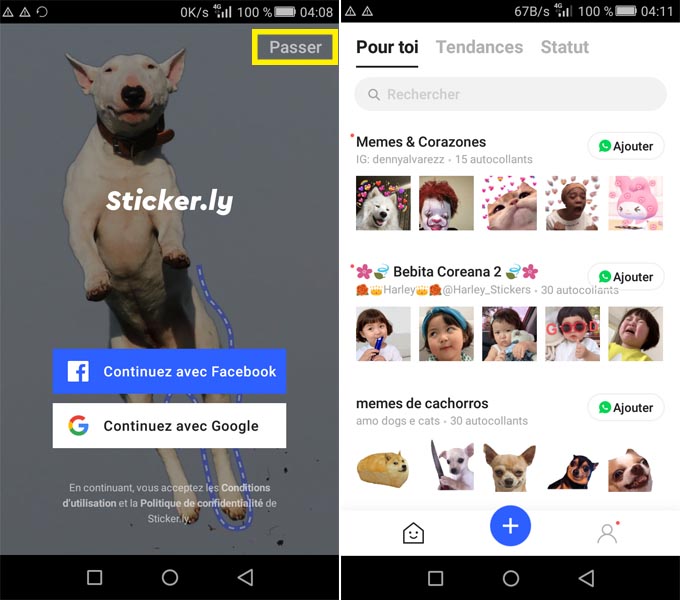 Step 2 : Select the type of cropping, automatic or manual. Then adjust the image, add text and / or an emoji according to your preference. To finish, press " Next "Above the right of the device screen.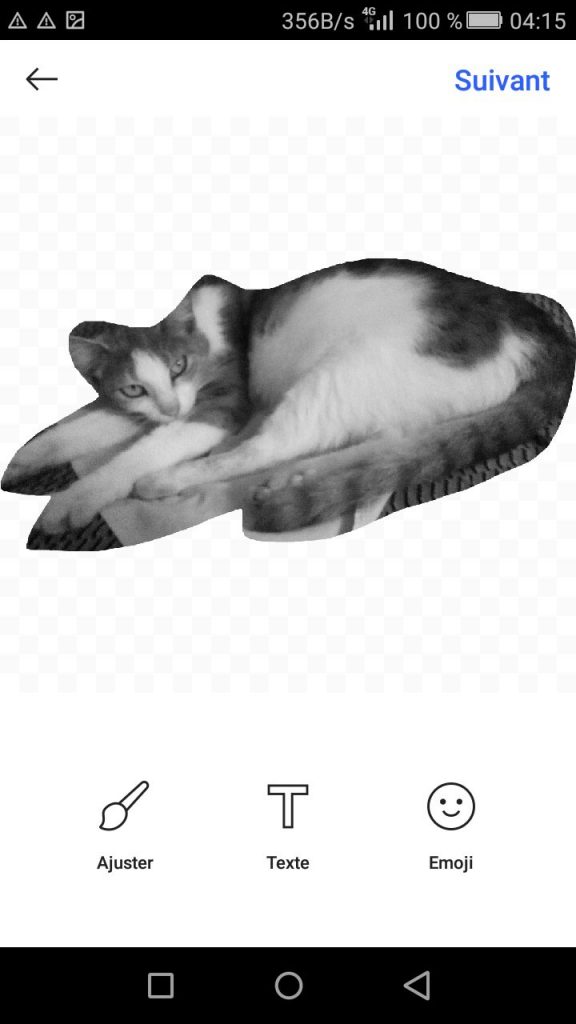 Step 3 : Add tags and save your sticker. Add a package to facilitate the classification of your stickers. This will allow you to find them easily. In the same part, you can add your name as the creator of the sticker. Create and wait for the progress to go to 100%.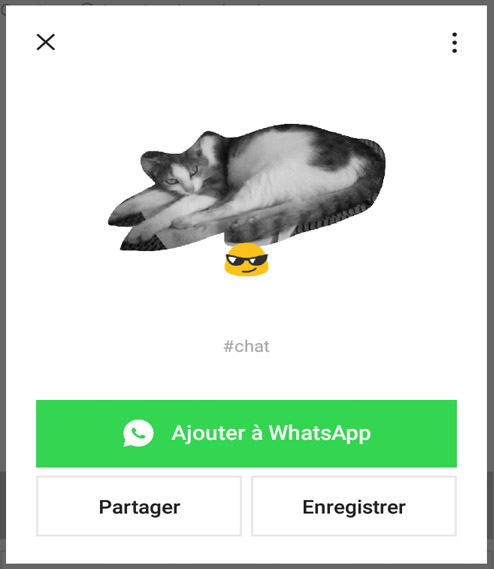 Finally, touch the sticker you just created and add it to WhatsApp. Authorize the addition to My Stickers from WhatsApp. You can also share it directly on another of your social networks.