do you know that Google Drive allows you to create a folder and share it with your contacts? It's a free service on top of that, like most of the Google services that a lot of people use. You are an individual or a company and you want to create a shared folder in Google Drive! This article will walk you through how to do it, step by step.
The advantage with sharing a folder is that it allows you and your comrades (in case you are working in a team), to be able to deposit the files and elements on which you are working. It also allows you to send large files to your contacts that cannot be sent through commonly used channels such as Whatsapp.
Create shared folder in Google Drive, how to go about it?
Log into Google Drive
Don't have a Google (Gmail) account? If you don't have one, start by create simply and for free Here. Having a Gmail account is the only condition for taking advantage of all of Google's services. By creating a Gmail account, you automatically benefit from 15 GB of free online storage.
If you already have a Google Account or just created one, connect with from here to get started to create a shared folder in Google Drive.
Enter your email address, then your password.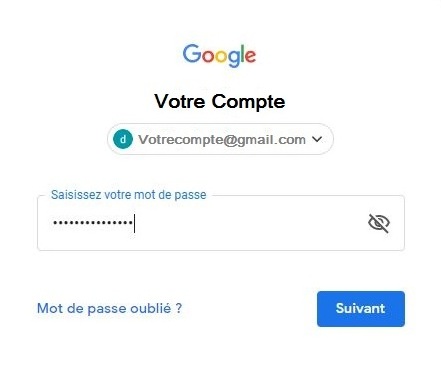 Please enter your password correctly. For security reasons Google attaches particular importance to this detail.
Select a folder to share
Once in Google Drive, you will have to create a new folder that will be shared, or select an existing folder to be shared. To create a new folder, right-click in the empty space and select " New folder ».
New or old folder, always right-click on it and select " Share ».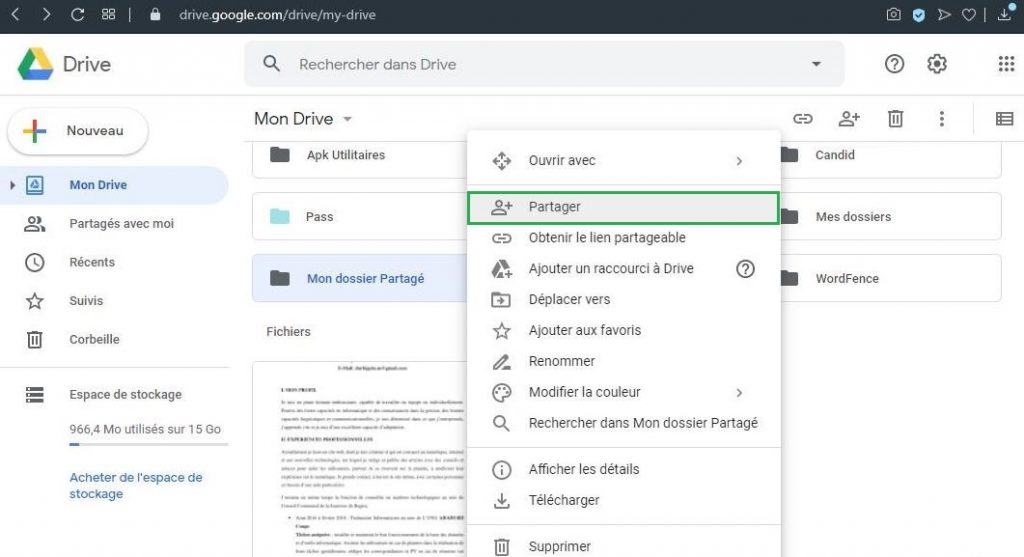 Then, you will enter the email address of your contact. You can also simply select it (s) since the addresses of all your contacts will be offered to you.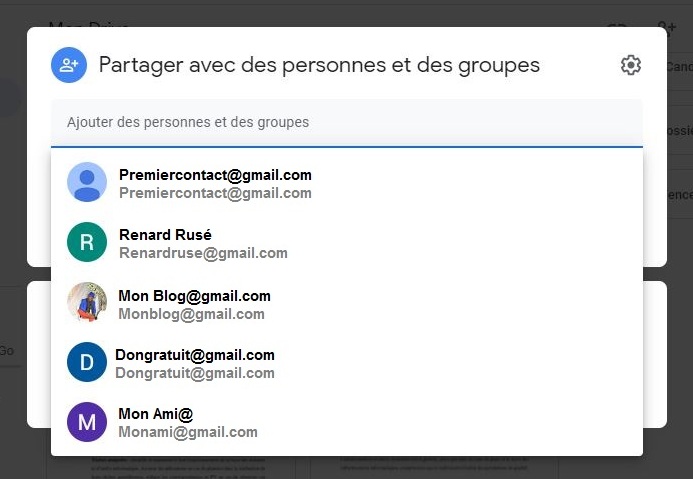 After having selected one or more contacts, a few more small details before finalizing with the creation of a shared folder in Google Drive. Being the owner of the folder, you will assign access rights to the selected users: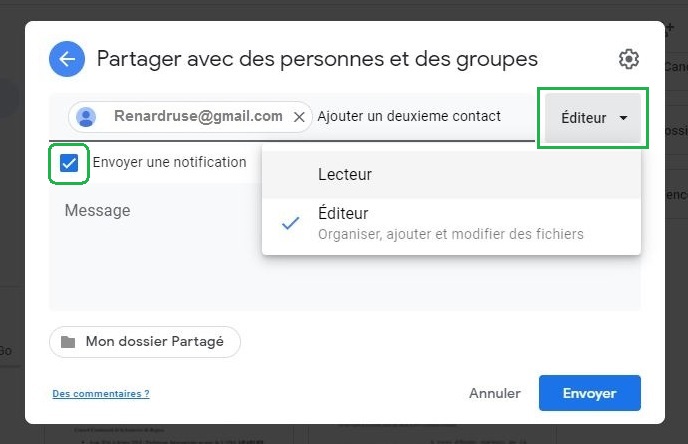 Litterature : other users will only be able to view the files in the folder.
Editor : they will be able to consult, add, modify or delete the files in the folder.
From this moment you can send and share the file. You notice the box checked " Send notification », If you check it, and that's what I suggest you do, your contact will be notified that he now has access to a file created by you. It would be better to check it off, otherwise what importance is it to give access to the file without notifying it!
Send to finalize with the sharing of the folder.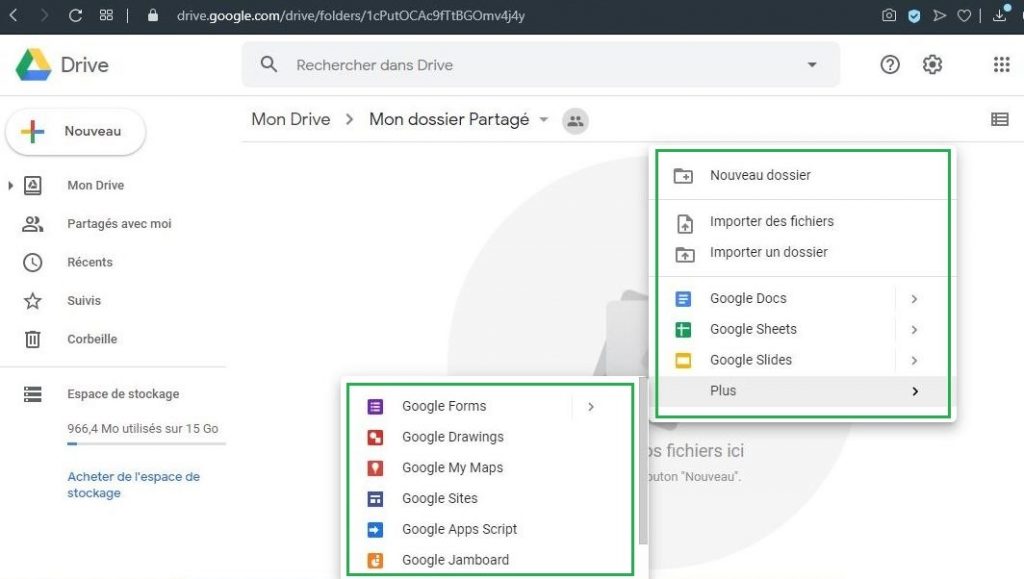 You have just created your shared folder in Google Drive. You can now create or add elements of several types to it, even a file size over 500 MB. By accessing their Gmail account, your contact will be able to consult the file, but you can also send them the folder link to open it directly.
Read also: Why use a VPN to access the internet? What better VPNs?.
Change the folder sharing settings
After sharing the folder, you can go back and delete one or more contacts. To do this, click on the small icon as in the image below: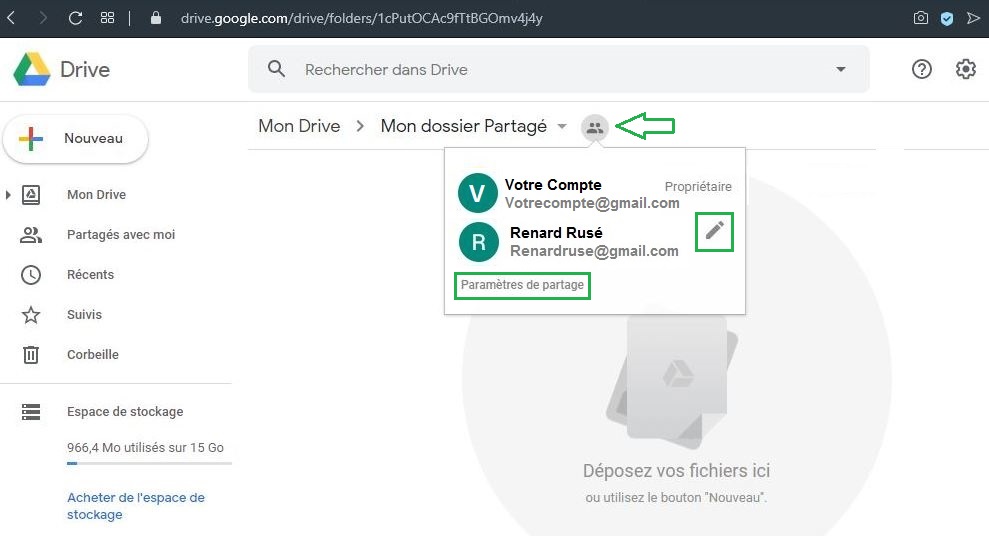 You will see all the people (users) you share the folder with. Click to remove or change a user's rights, or to change all sharing settings. You can also define a user of your choice as the owner of the folder.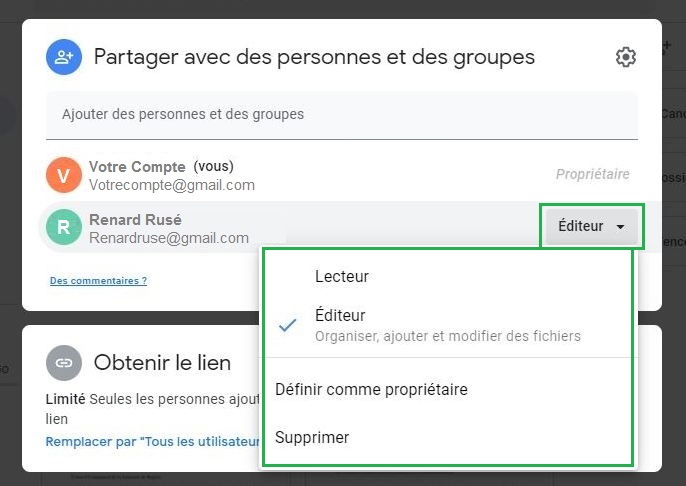 Now you know how to create a shared folder in Google Drive. The addresses used in the article are fictitious, and therefore do not belong to real people. We suggest you read also how to configure your Gmail account to receive all your job offers.
Was this content helpful to you? Leave a comment and share with yours.