If you are looking to know how to create a bootable Linux, Ubuntu, Mint, Debian or other USB, here is an article that will guide you. You will find out how to do it from Windows, or directly from Ubuntus Linux.
Create a bootable Linux USB from Windows
To do this, we will use the bootstrap software Rufus. This is a small, free utility software that allows you to create a bootable USB drive for several types of systems. It can also be used for the same operation in order to prepare a Windows installation key.
Before continuing, have a USB key with a capacity of at least 4 to 2 GB. The latter, during the process, remember that it will be formatted and will lose the data contained therein. You must also have at your disposal, the Linux ISO file to install.

Here are the steps to follow to create a bootable Linux USB:
Plug in your USB stick and launch Rufus.
Configure Rufus to create a bootable Linux USB
Here are the configurations to be made with Rufus to create a bootable Linux USB:
As device, select your USB drive.
Startup type, "Disk Image or ISO", click Selection. Browse your hard drive and select the Linux ISO image to install.
Persistent partition size: Leave the default configuration.
Partition scheme, MBR or GPT. If your motherboard uses BIOS (BIOS or UEFI) as firmware, select MBR. In the other case, select GPT (Not CMS), if your motherboard uses UEFI as firmware.
Ignore the advanced options. Select FAT32 as the filesystem.
Allocation unit size, leave the default configuration. For the volume name, change it or leave it.
Then start booting. You will receive a message telling you that your image is an "ISOHybrid" image and recommending " Write in ISO image mode". click on OK to start the process and wait for the end.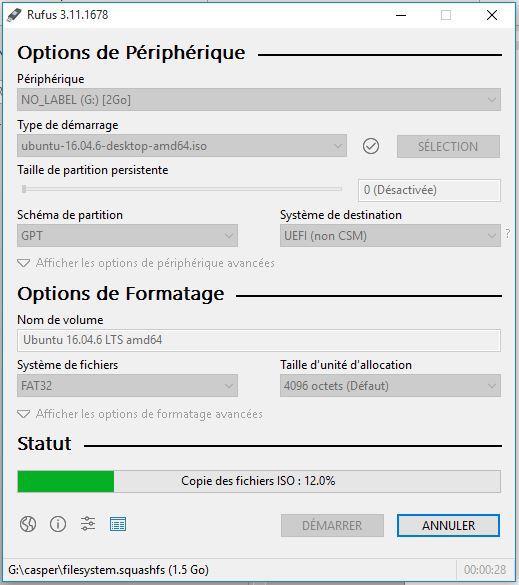 Once the process is complete, click Close and that will be all. You just have to install Linux on your computer by restarting it from the boot menu. As a reminder, here is a small list of the keys to call up the boot menu, according to the brands and models.
HP: Esc or F9. Toshiba: Esc or F12. Lenovo: F12, F8 or F10. Dell: F12. Acer: Esc, F9 or F12. Asus: Esc or F8. Samsung: Esc, F2 or F12. Compaq: Esc or F9. Fujitsu and eMachines: F12.
Read also: Install Ubuntu with Windows 10 on VMware and in dual boot (20.04 LTS).
Create a bootable Linux USB from Ubuntu
There are a number of ways and tools that can be used to achieve this. You will have the option to install a Linux system of your choice. Just like on Windows, get a 2 to 4 GB USB key, more if you can. You will also need to have the ISO image of your Linux system.
Among the tools to use to achieve this:
Ubuntu Terminal
Integrated into your system, it is therefore a tool that you will not look far to seek. Here are the steps to create a bootable Linux USB from the terminal:
Connect your USB key and locate the name, the letter assigned to it by the system.
Find and launch the terminal. Then enter the following commands to unmount the partitions from the USB key and start booting:
Command to locate the name assigned to your USB key by the system:
lsblk - S

Command to unmount partitions from USB stick:
sudo umount / dev / name of your USB stick? *
Whereas your USB is bathroom, you will type the following command:
sudo umount / dev / sdB? *
To then call your iso file from the terminal, start by locating its location on your disk. That is to say the folder or sub-folder in which it is located, as well as its name (and its extension of course). Here is the command:
sudo dd if = / destination / file / linux.iso of = / dev / sdB bs = 4M status = progress oflag = sync
The instructions destination / file / linux.iso simply represent the location (directory) of the image file and its name followed by its extension. Replace them with the location and name of your ISO file. Also, don't forget to replace bathroom by the real name representing your USB key.
The writing of your ISO to the USB stick will be triggered. Wait then, the time for things to fall into place. Your USB will soon be ready for use.
Read also: How to install Windows 10, 8.1 and 7? The complete guide.
balenaetcher
Efficient and easy to use, Etcher is a tool that ensures better burning of the installation image. Besides ISO, it also supports IMG, ZIP, etc. files.
Here's how to create a bootable Linux USB with Etcher: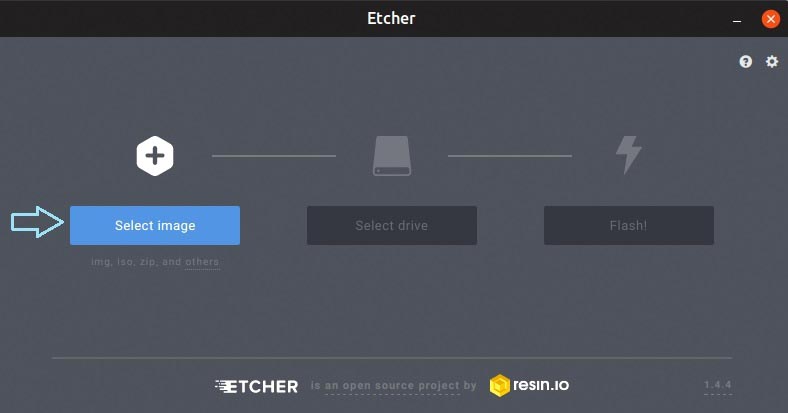 Download Etcher, install and open it.
Select the Linux ISO image to use by browsing your disk.
Select your USB drive. If a message is returned to you, indicating the size of your USB, click on Continue.
Wait for the process to finish.

Startup Disk Creator
Bootable Disk Creator, as the name suggests, is the tool many on Ubuntu use to do this. Here is how to create a bootable Linux USB with Startup Disk Creator :
Download and install Startup Disk Creator from Terminal. You will find it and install it from the terminal with the following commands:
sudo apt update sudo apt upgrade sudo apt install usb-creator-gtk
Launch the app. At this point, you will only have two things to do. In the game " Source disk image», Browse your disk and select the ISO file. In the peripheral part " Disc to use », Select your USB key.
Click on Create a boot disk, confirm and wait for the process to complete.
There are many other tools and methods to create a bootable Linux USB. Whether from Windows or Ubuntu, I hope you find the steps listed in this article helpful.