If you want to convert PDF to Word document so that you can edit or re-edit it, here is an article for you. On Mac or PC, there are a number of tools and methods that you can use to perform this conversion. You'll explore three of the simpler ones, from using Office Word to conversion software to online conversion tools. Here is directly how to convert PDF to Word document.
Convert PDF to Word Document with Office Word
From version 2013, it is possible to open a PDF with Office Word. You probably already have Word installed on your computer. Open Word under a blank document, go to the menu fichier (top left), Open. Browse your folders and select the relevant PDF file.
After selecting the file, Word will display a message telling you that the selected PDF document will be converted into an editable document.

Simply accept and wait for Word to convert the document. However, for some documents you will notice some relatively slight differences from the original document. It depends on the document in question and the method or tool used by its author to put it in PDF.
Then save your document under the same or another name. Now you can modify it at any time since it is already in Word format.
Read also: How to automatically open a PDF file on Windows?
Convert PDF to Word Document Online
There are tools on the internet to process a PDF document and convert it into an editable document. Most of these online converter software are free and easy to use. Apart from converting to multiple formats, some offer additional features such as merging two documents, extracting text or compressing, etc.
Here is a short list of free online PDF converter tools. You can start using them now because of their ease of use.
Smallpdf
Simple and full of features, Smallpdf converts PDF to Word document in less than four clicks. You will only have to select the document to convert and start the conversion.
To make a PDF document editable online with smallpdf, open Smallpdf here. Then browse the folders on your computer and choose the PDF document to convert.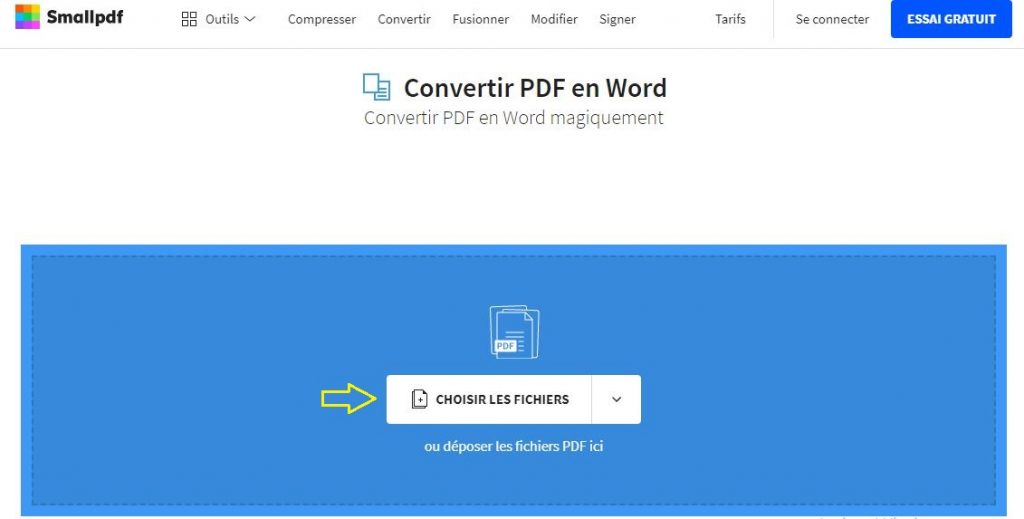 Set the conversion mode. Select the option of your choice between making pages appear as images or its alternative.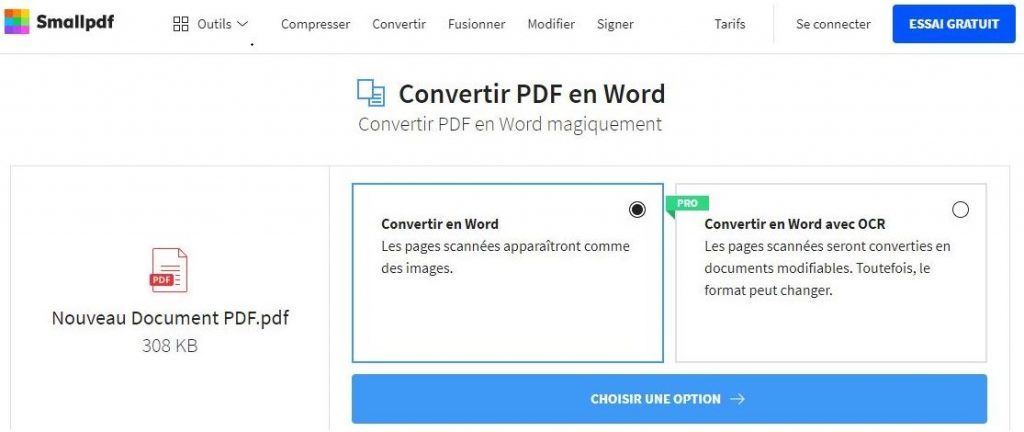 Wait while the document is being processed. At the end of the conversion, you can either download your converted document or send the file or its link to your contacts by email. Smallpdf also offers the possibility of uploading your file to a Dropbox Cloud account or Google Drive. It has software that you can try for 14 days by downloading it from its own site.
Smallpdf also has extensions for certain browsers like Chrome and a mobile application usable on Android and iOS. If you desire it, download Smallpdf for Windows, macOS, Android, iPhone or iPad.
Read also: How to put a single page in landscape et Add an automatic table of contents with Office Word ?
PDF to DOC
A complete tool, and completely free, PDF to DOC allows you to convert and process your PDF document, all online. Beyond PDF → Word conversion, it allows combining, extracting or compressing PDF documents, converting them to multiple formats. With PDF to DOC, you have the option to add multiple files and convert them in bulk.
To make a PDF document editable online with this tool, open PDF to DOC here. From your hard drive, select one or more PDF files to convert.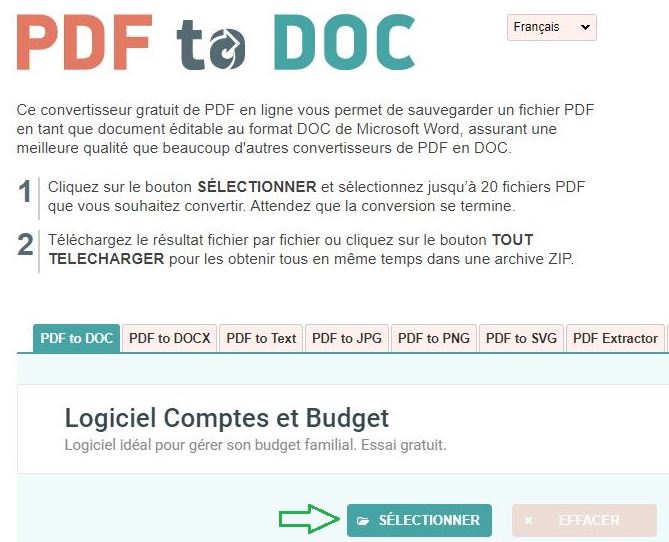 After selecting the document (s), processing and conversion are performed automatically. At the end of processing, your converted document will be displayed, will be displayed if you have selected more than one. Click on the one you want to download, or on " Download all »And start the download.
PDF Candy
Here is another complete tool to convert PDF to Word document. Beyond converting PDF into editable document, PDF Candy also offers a whole range of online and free features. Among them, the possibility of extracting the text or compressing the document, converting Excel files, etc.
To convert a PDF to an editable Word document, the procedure remains the same. Open PDF Candy here to get started. Choose the file to convert by browsing your hard drive. This online application also allows you to import the file to convert from Google Drive or Dropbox.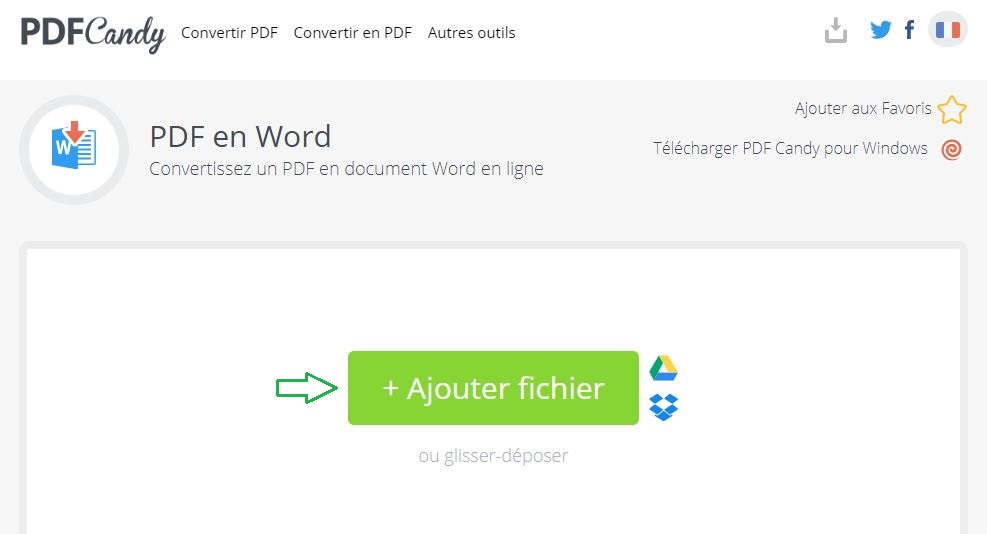 It only takes a long time to process the document. Then you can download it or send it to Google Drive or Dropbox.
PDF Candy can also be used offline through its executable application on Windows. By downloading it, you will be able to process and convert your PDF documents without an internet connection. If you desire it, download PDF Candy Desktop for your computer.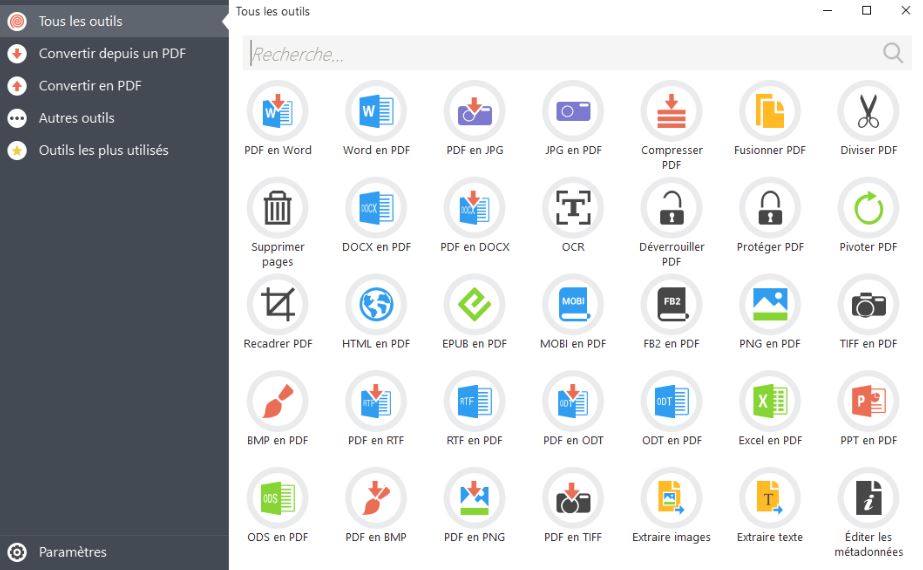 PDF Candy Desktop software is lightweight and comprehensive. It can convert files from PDF to various formats, convert documents, eBooks and images to PDF, etc.
Read also: How to download YouTube videos without downloading software?
Nitro PDF to Word
Another tool that you can use to convert PDF to Word document online is Pdf to Word by Nitro. Online, you can choose the file to convert, start the conversion and enter an email address to which the converted file will be sent.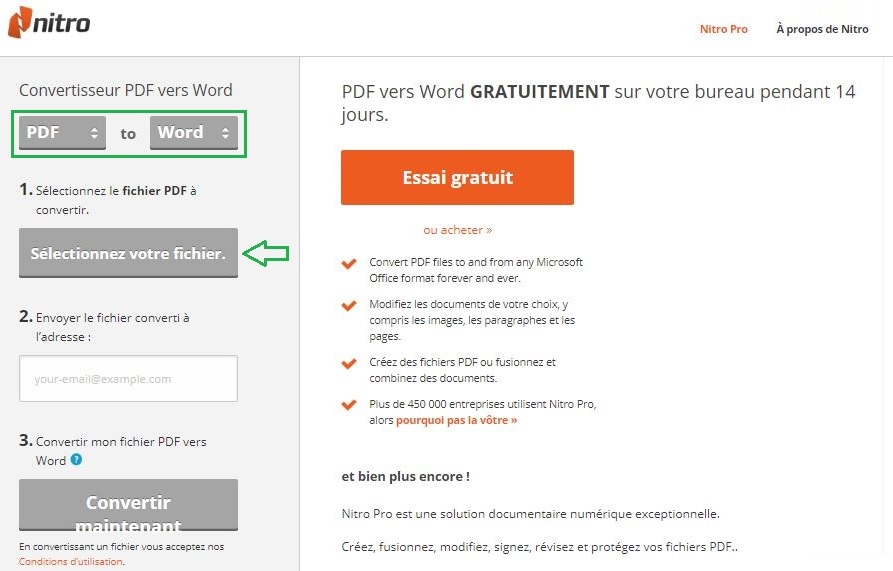 It also has a program that can be used on a computer, with a 14-day free trial. Its software allows you to Create, merge, modify, sign, revise, protect a PDF file, etc.
You may have a very confidential document and want to convert PDF to editable format. In this kind of case, it is quite normal to question your confidentiality, since it will be processed online.
In fact, these online tools ensure the security of your files. They erase your documents from their servers within minutes of processing. This is for the purpose of treating user data with the utmost care, but this does not preclude any caution on your part. Personally, as for highly confidential documents, I would suggest that you proceed through offline software, you never know.
Convert PDF Word Document with Software
Although some of the tools cited for online conversion have their own software, there are others that specialize in processing and converting PDF documents. They are diverse and varied, some free, others paid, with trial versions. Among these software:
PDF element
Easy to use and somewhat similar in appearance to Word, PDF element is a good document conversion tool. Available on several platforms, it allows converting PDFs into fully editable documents (Word, Excel, PowerPoint, etc.). Also allows creation of new PDF documents, extraction or combination of documents, etc.
In addition, it has many document editing features which are very similar to Microsoft Word. Among them, spell check, line mode, paragraph mode, etc.
The only flaw with PDFelement is its non-availability in a completely free version. If you want to try it, you will have a 14-day trial period, during which you can convert your documents. However, even during the trial period, your room for maneuver will remain limited, for example, you will not be able to convert a document of more than 5 pages. If despite that you want to try it;
Here's how to do it with PDFelement
Download PDFelement for Windows | macOC | Android | iPhone or iPad.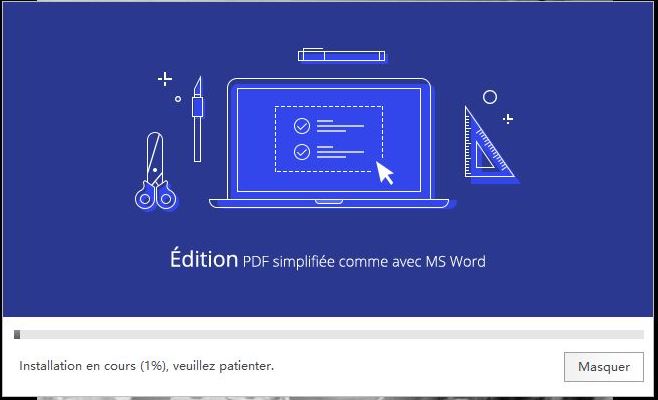 After downloading, install and launch PDFelement on your computer. Browse the folders on your computer, to select and convert a PDF to a Word document.
You can do this directly from the software homepage, or by going to the menu File, Open. After selecting the document to convert, define the name of the output file and the location where it will be saved.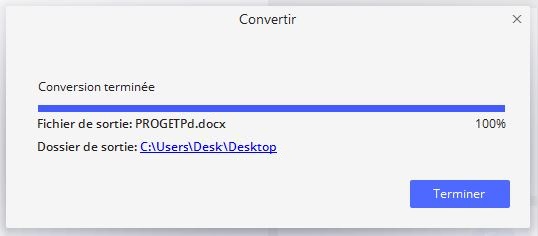 At the end of the conversion, your document is ready. It is saved to the previously set destination, and can be viewed, edited, or shared. Apart from converting a PDF to a Word document, PDFelement also offers the possibility of scanning a document with the webcam of your device.
In the free (trial) version, it remains limited. You will notice the absence of certain features such as optical character recognition (OCR). If you're willing to shell out a few dollars, you can get and enjoy the full version.
Read also: The 5G network, what about its new features, characteristics, uses and dangers?
with a PDF to Word Converter
Free in standard version, with a PDF to Word Converter is a very powerful conversion tool. Besides being fast and easy to use, it produces output files with remarkable precision. It allows you to convert a PDF into a Word document while preserving the formatting, the appearance of the texts as well as that of the tables.
PDF to Word Converter also allows bulk conversion. You can select any number of documents and submit them for uncomplicated batch conversion. To convert, choose the original file, then the save destination for the new file and start the conversion.
Already a very good alternative in the standard version, it is not without limits. With the standard version, there is no possibility to convert PDF files composed of images, due to the lack of optical character recognition (OCR) functionality. It's up to you to see if you should seek to obtain the premium version or not, since the latter includes a number of additional features.
Download PDF to Word Converter for Windows | MacOS | Android | iPhone or iPad.
Another free alternative software to convert PDF to Word document is Wondershare PDF Converter Pro. It has many options for converting to multiple formats. It allows you to perform optical character recognition, select multiple documents and convert them as a whole. Wondershare PDF Converter Pro can also convert protected files and documents. The conversion process is simple:
Download PDF Converter Pro for Windows | MacOS.
After downloading, install and launch the application. When opening the application, add the file to convert through the icon with a + sign. Set the conversion format, Word Document, and start the conversion. The software even allows you to select specific pages to convert. At the end of the conversion, your document will be fully available as an editable Word version.
How to convert Word document to PDF?
The conversion of Word documents to PDF format is one of the features most used today by users of this Microsoft tool. It is still not impossible that you have never tried the maneuver. If so, here's how to go about it:
The very first step is to open the Word document you want to convert into PDF format. Once in the document, go to the menu File of Word above left, select " Save As ».

After that, you will have a dialog box through which you will have to select the PDF format before saving: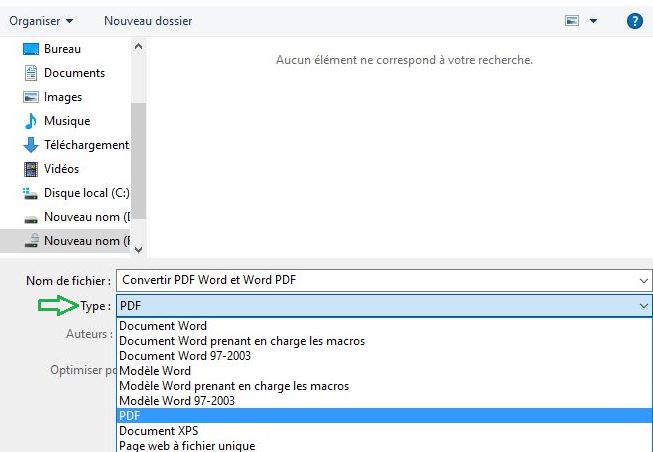 Expand the " Type », Choose the PDF format and save the document. To perform this maneuver with Word, you must have at least version 2010. After saving, you can continue editing your Word document, the PDF having already been saved.
Read also: How to fix a PC that won't start or partially turns on?
Regarding the conversion of a PDF into a Word document, several other tools are available on the market. From the free ones to the paid ones, they offer varieties of features, but the paid versions always offer a plus.
Whether online conversion tools or executable software, free tools can sometimes be incomplete. Paying a little money to acquire a complete tool for your various conversions would therefore not be a bad deal.
Was this content helpful to you? Tell us in the comments and share.