With more and more attractive apps available, resisting the temptation to install more is difficult. But over time, we quickly reread that keeping applications that are unused or little used is not beneficial for the computer. This is when the uninstall question pops up. In this article, learn how to completely remove an app on Mac.
As you probably already know, each application installed on the computer takes up space. As they are used, some of these apps store more data than others. There are some who spend a few Megabytes from size to several hundred in just a few days of use.
Keeping a lot of applications installed on your computer affects your computer's storage and execution speed. Deleting an application therefore frees up space for other elements and offloads the computer a little more. This has the effect of improving its speed.
Public chat MacOS, unfortunately, uninstalling apps might not be easy for some. This is why we are offering you a number of methods to completely remove an app on Mac. But before proceeding, you should be sure that you want to delete the targeted app.
Read also: How to Recover Deleted Data on Mac ?
Completely remove an app on Mac with Finder or Launchpad
With Finder, on macos catalina for example, it is possible to delete an application. Most applications installed on Mac can be found there. Here are the steps on how to completely remove an app on Mac with Finder :
Step 1 : From Finder, in the " Applications », Locate the one you want to delete. You can also search for it in the list. Once found, right click on it, click on " Place in the trash »And validate. You can also drag the app to the trash.
Step 2 : Then enter your name and mot de passe administrator, if prompted, to confirm the operation. It is nothing more than the name and password that you usually use to access your computer.
Step 3 : Go to the recycle bin to empty it. The application will then be deleted from your Mac.
By going through Launchpad, the deletion of an application is possible through a simple, very practical method. It is in fact to access the list of applications, to locate an application and to perform a long click on the icon of the latter.
Once the application icons start to move, click X next to the targeted app icon. Then click on " Remove »To confirm and send the application to the recycle bin.
After deleting the application, it will no longer be found in the list of applications on macOS. However, this does not mean that all the data relating to the latter will disappear. It will also do the housework by finding and deleting the residual data of the deleted application.
Read also: How to fix a MacBook that won't turn on ?
Remove residual data from a deleted app on Mac
As said, sending an app to the Trash via Launchpad or Finder doesn't delete all of its traces. Some files will remain on your computer and could still impact your Mac's disk in a relatively noticeable way.
Completely deleting an application on Mac therefore corresponds to listing the remaining files in the library. Open the folder " Library And search for the affected files from the name of the deleted software. Then send the related files to the recycle bin.
Other residual files to delete are preferences of the deleted application, located in the application preferences folder. This folder contains sensitive files that are useful for the operation of your macOS. It should therefore be handled with care.
To access it, go to the following location:
Hard Drive> Users> Username> Library> Preferences. for example MacDisk> Mac> Clicmeric> Library> Preferences. Once in the location, you will be in front of files with the extension " .plist ". These files usually do not take up much space and can be recognized by the name of the removed software or its publisher.
Still in the hunt for residual files related to the deleted application, you can also take a look in the locations: Hard Drive> Users> Username> Library> Application Support and in Hard Drive> Users> Username> Library> Extensions.
It happens that some applications leave there files related to extensions for example. From " Preferences »In the other locations, delete the files relating to the application sent to the recycle bin. Then go to the recycle bin to empty everything, free up space and erase the traces permanently.
Read also: How to install Windows on Mac ?
Completely remove an app on Mac using a third-party app
There are solutions for you, if you want to completely remove an application on Mac without bumping into residual files, without having to deal with sensitive items. This is to use one of the applications dedicated to cleaning Mac.
Among these applications, MacClean, CleanApp, AppZapper, etc. They are all useful, but some of them are more interesting than others, depending on the user's own need.
Among these applications, let's talk a little about MacClean. This is an easy-to-use tool that cleans the computer. It detects junk files left by applications, traces of internet browsing and duplicates that need cleaning.
Download and install MacClean. After installation, launch the software and go to the Cleaning tools, Application uninstaller. Once inside, you will have the list of all your applications, with the possibility of deleting the ones of your choice.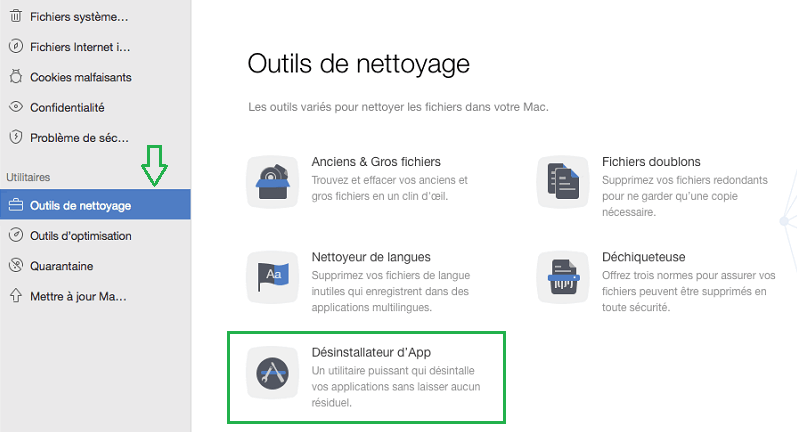 To remove an application, or more, check it (them) and go to the bottom right of the MacClean window to clean it. Each time you have checked a MacClean application will display the different folders containing its files as well as their details. Then MacClean will calculate the space to be recovered. You can then click on " Clean », Then confirm.
Completely removing an app on Mac is usually a less complicated maneuver, but can be tricky for some users. Especially since deleting the wrong file, system file or not, would pose a problem of a whole different kind. This is why it is recommended to use tools dedicated to cleaning and uninstalling applications.