The Apple AirTag is a small device for locating personal items to which it is attached. It is small enough to hang on a key or to contain in a wallet. How does this little gadget developed by Apple work?
AirTag, how does it work?
The operation of this device is based on technology Ultra Wideband (UWB), inscribed on its back side. UWB technology is based on the so-called " Ultra-wideband " or U1. It uses low-range, low-power radio waves to accurately locate and measure.
Read also: Configure and connect an AirTag to an iPhone.
To find one or more lost items with the Apple AirTag, it must be in the same location as these items. We will then talk about finding the AirTag. To be located several kilometers from the owner, this device relies on millions of Apple devices around the world.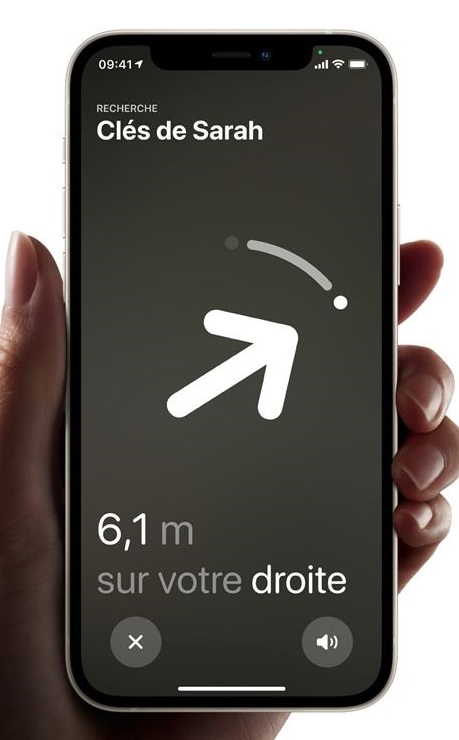 Your Apple AirTag emits a Bluetooth signal that can be detected by devices on the network Locate nearby. These devices send your AirTag's location information to iCloud. By going to the application Locate, you will be able to consult a map showing the location of your AirTag.
The iPhone 11 was the first model of Apple smartphones to be equipped with this chip. Thanks to it, and UWB technology, a user can track and find, with their iPhone, any lost object or another device using the same technology.
Precise Location and Lost Mode function
Function Precise location allows you to display the distance between your iPhone and your AirTag. But it is not supported by all iPhone models. Here are the iPhone models that support the Precise Location feature:
iPhone 11.
iPhone 11 Pro and iPhone 11 Pro Max.
iPhone 12 and iPhone 12 mini.
iPhone 12 Pro and iPhone 12 Pro Max.
iPhone 13 and iPhone 13 mini.
iPhone 13 Pro and iPhone 13 Pro Max.
This is a very useful function for locating lost objects at home. In case of loss, you can also activate the Lost Mode on your AirTag. You will automatically receive a notification if it is detected by an Apple device near the AirTag.
It can also automatically send your contact details, if you had configured it this way, to the owner of the device that detected it. The latter could then contact you to return it to you and your lost items with it.
Can you be spied on with an AirTag
Only you will be able to locate your Apple AirTag and the entire location process is done anonymously and without storing any information on the AirTag or on the device that detected it. However, someone who wants to follow you without your knowledge can put an AirTag in your belongings.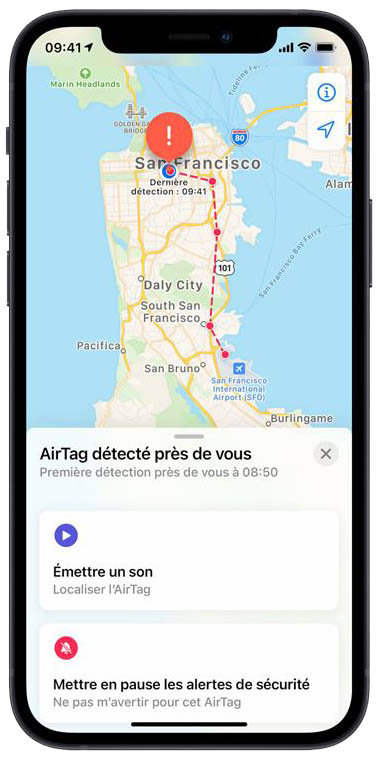 Any AirTag placed in your belongings or near you, in your car for example, will be detected by your iPhone. You will be informed by a detection notification. Remaining a long time away from the iPhone on which it is configured, it will start to emit a sound to indicate its presence.
The Apple AirTag automatically starts ringing as soon as it is out of range of the phone to which it is linked. Using a network of Apple devices, an AirTag that is lost or placed for spy purposes will not update location in real time. Unlike a satellite system geolocation beacon.